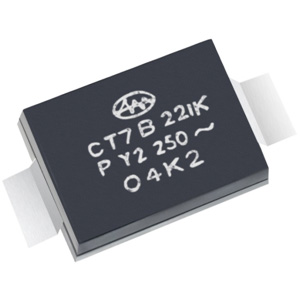 ---
- We design capacitors much more compact in thickness than traditional radial Type, having reduced the thickness to 2.5mm height.
- Operating temperature range -40~+125℃
- Dielectric strength: AC2500V
- Class X1/Y2 capacitors certified by UL/VDE/ENEC.
- Coated with flame–retardant epoxy resin (conforming to UL94V–0 standard).
- Taping available for automatic SMT reflow.
- AC250V Rated Voltage item are available.
- This one is MSL 3 product.
Application Area
---
- Ideal for use as X/Y capacitors for AC line filters and primary-secondary coupling on switching power supplies and AC adapters.
- Ideal for use on D-A isolation and noise absorption for DAA modems without transformers.