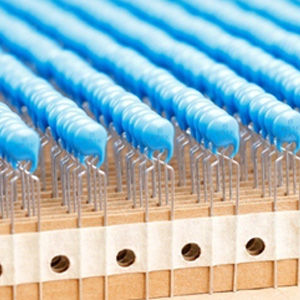 Ceramic capacitors of Medium and high voltage
---
- High breakdown strength
- Operating temperature range -25~+125℃
- Frequency range 1KHz~1MHz
- Coated with flame–retardant epoxy resin (conforming to UL94V–0 standard).
- DC1KV~6KV Rated Voltage item are available.
- Bulk or taping product can be available.
Application Area
---
- Using for H-out and supply circuits of color TV and monitor、copy machine、inverter lighting.
- Ideal for use as the ballast in back lighting inverters for liquid crystal display.
- Ideal for use on high frequency pulse circuits such as a horizontal resonance circuit for CTV and snubber circuits for switching power supplies.